Who am I? My name is Deanna and I have been on the fanlisting scene for quite a while, since before 2006. I am a Trouble-Checker for the Actors, Companies, and Objects categories, at TFL and hoping to become a trouble-checker at the Anime Fanlistings Network as well. I opened my first fanlisting back in 2006, and I slowly built more fanlistings as time went on. However, due to some web host issues that were beyond my control I was forced to close all of my fanlistings by late 2011. Eventually my entire collective was closed due to an unreliable web host and data loss, as well as TFL's hiatus.
However, Night Explosion is now back and better than ever! My future goals include getting more involved in the TFL network and running fanlistings again.
These are fanlistings and hatelistings I used to own, and the dates that they were approved (note that these are all closed now):
8/20/2006 - Praise You in this Storm
8/31/2006 - Party's Just Begun
10/08/2006 - Scottish Fold
10/18/2006 - Shine by Aly & AJ
10/21/2006 - Outside Looking In by Jordan Pruitt
10/30/2006 - Remixes of Kelly Clarkson
8/27/2008 - Haters of Britney Spears Hatelisting
9/12/2008 - Chi Chai Monchan fanlisting
9/27/2008 - Haters of Miley Cyrus Hatelisting
9/27/2008 - Swear Words Hatelisting
9/28/2008 - Class of 2011
2/30/2008 - Allergies Hatelisting
11/24/2008 - Peanut Butter Hatelisting
Most of these were closed down not because I couldn't run them anymore, but because my host was down for about a year due to situations beyond my control.
These are some fanlistings I hope to one day own. This is obviously in no way meant as an insult to the current owner(s) of these fanlistings. FLs that are crossed out already exist.
Dead by April
Pibb Xtra
Sailor Moon-related fanlisting
Sociology (my college major)
Rashida Jones
GTA: San Andreas
Sims 4
Perfect Blue (anime movie)
Version 1.0 - February 2014 This layout featured a free public domain clipart image that I found that reminded me of myself. I think it was a pretty good layout considering I hadn't worked on a website for about 2 years, but it had some quirks since I still was getting a hang of PHP and the Enthusiast script.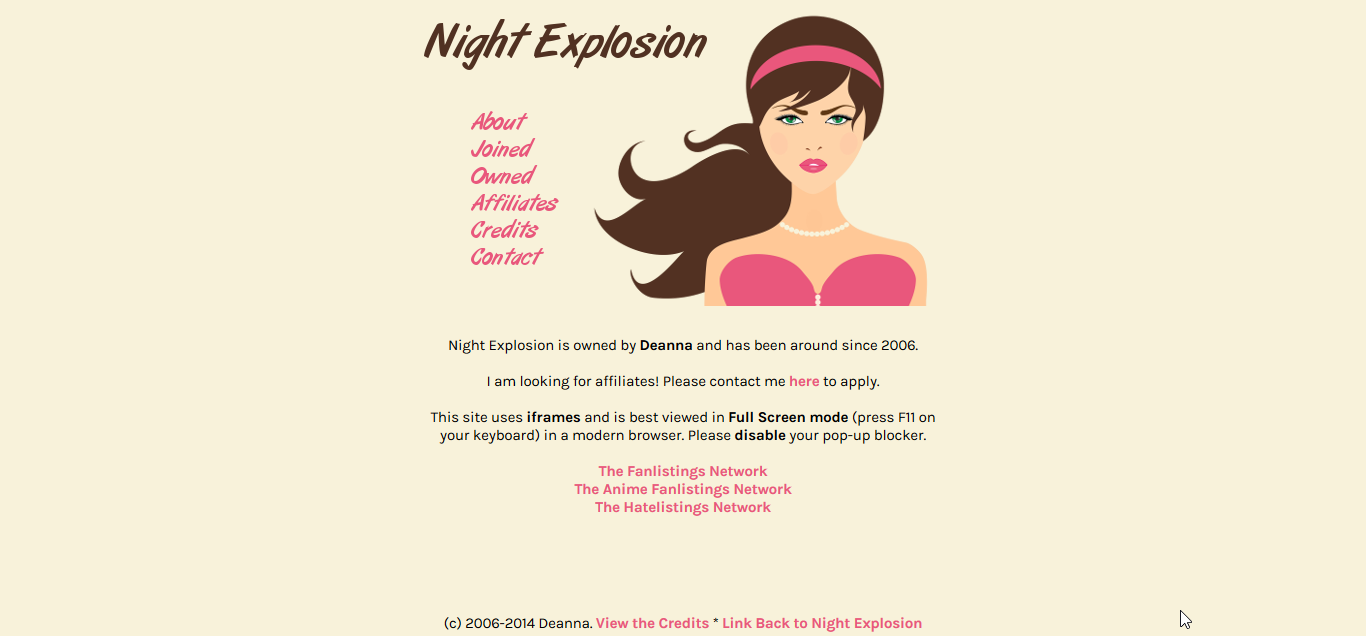 Click here to see the Resources that were used for this layout.
Version 2.0 - June 2014 This layout featured an image inspired by the Holy Grail from Sailor Moon. The color scheme was designed to match it as well. I am not particularly proud of my image editing skills but I think this layout turned out about the way I expected (very simple but colorful). I definitely used this layout for much longer than I intended - over a year!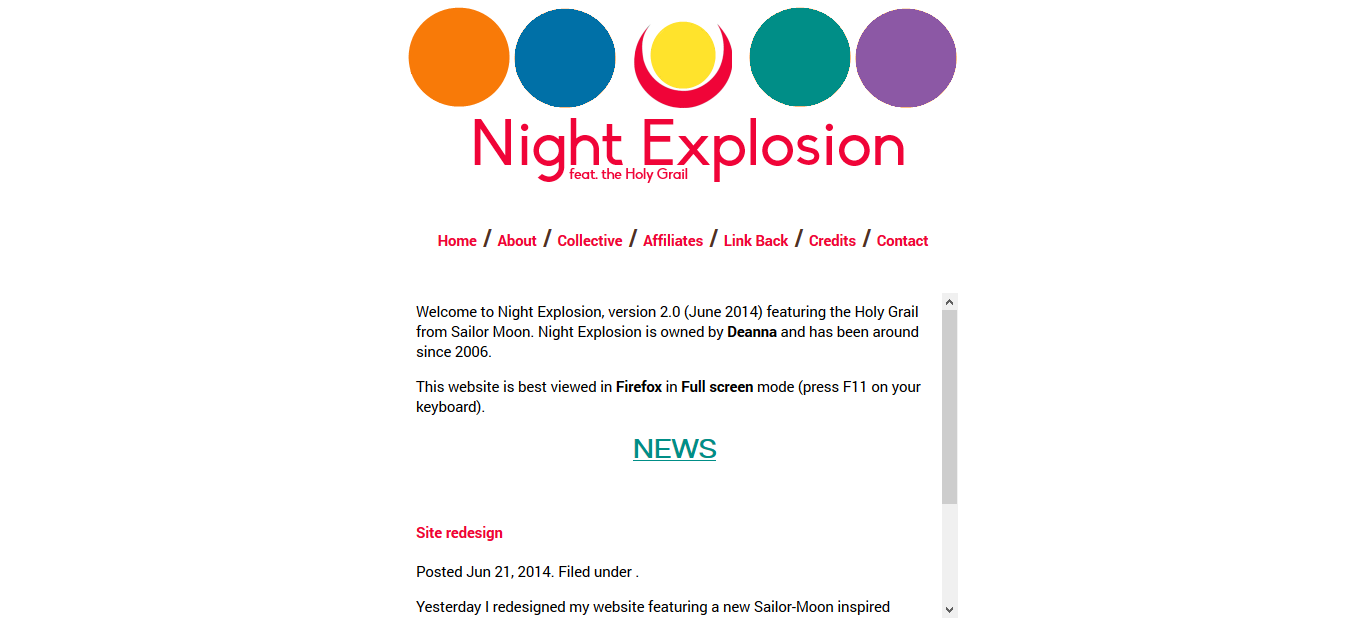 Click here to see the Resources that were used for this layout.
Version 3.0a-3.0c - July-August 2015 All 3 incarnations of this layout featured a picture of my favorite singer, Lights. During this time I switched from using an iframe-based layout to one based on CSS and PHP. I wasn't happy when I first switched, so I changed some things up for the third version. Basically I changed my layout 3 times over 2 months.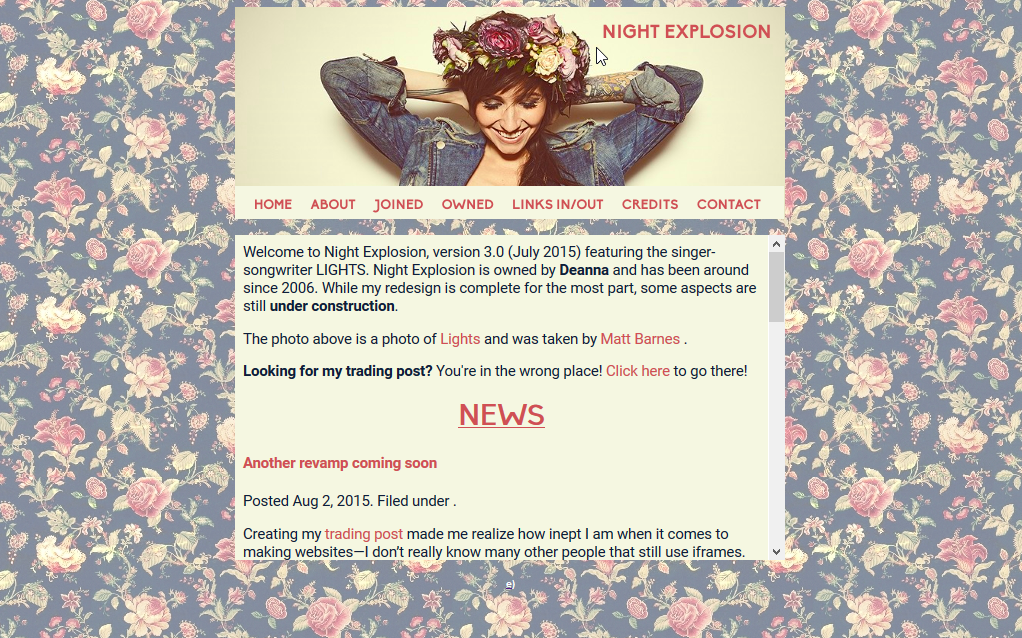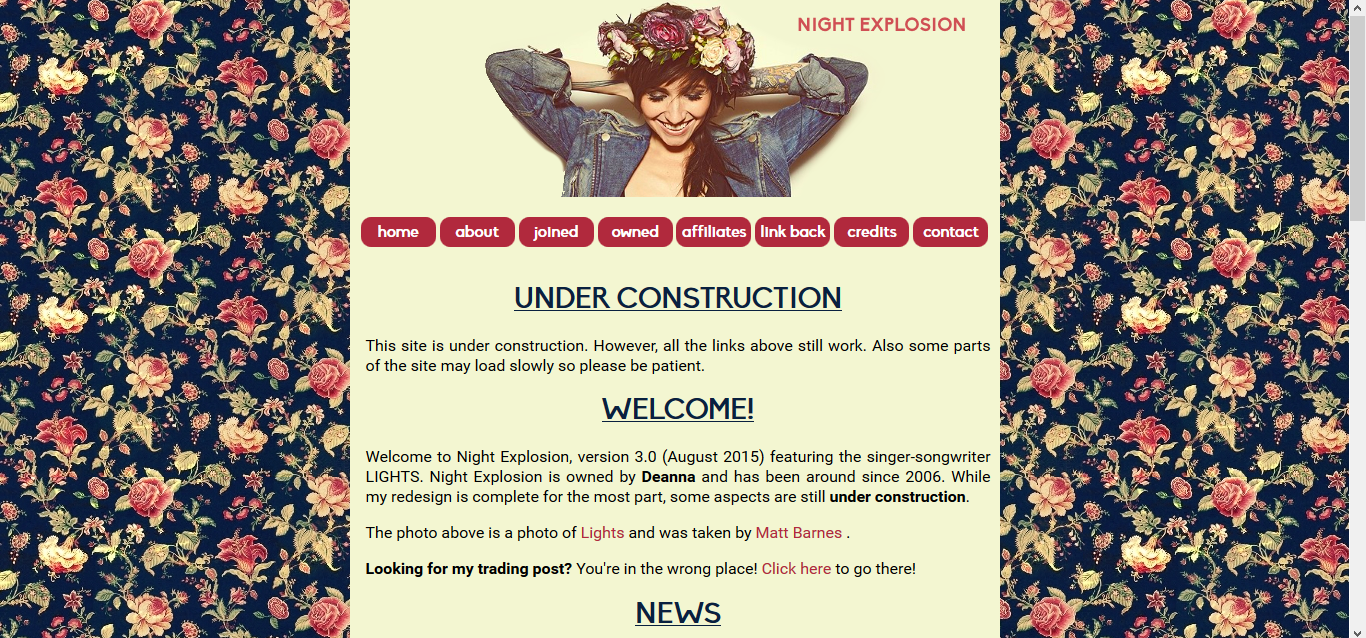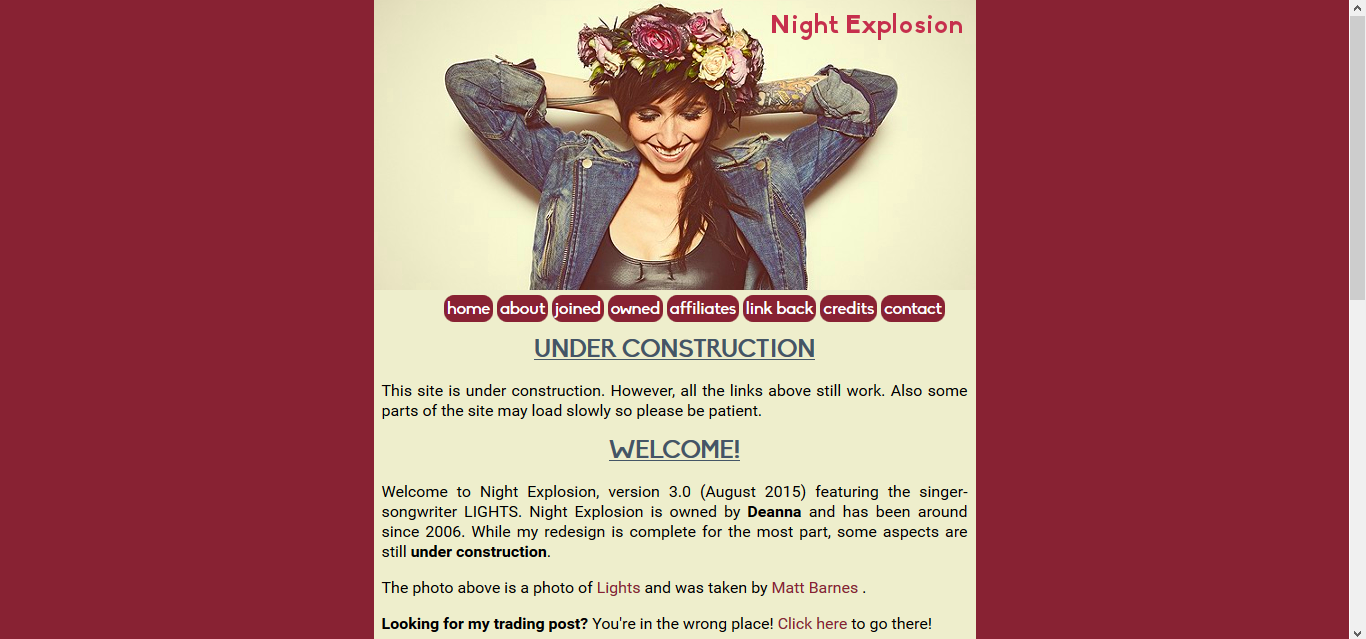 Click here to see the Resources that were used for this layout (for version 3c).